Posted by Neil Crosby on July 19, 2005 08:26 PM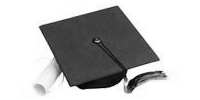 I've finally got the first of my 101 in 1001 tasks completed! Last friday, I graduated with a First Class honours degree in Software Engineering from the University of Wales, Aberystwyth.
It was a long hard day, starting at 5am so that Becca and I could catch the first train into Aberystwyth and ending after 10pm having caught the last train out again. Still, it was a good day. I was disappointed that I wasn't given anything when I went up onto the stage to become a graduate, but if everyone had been given scrolls then I guess that the ceremony would have taken considerably longer.
So I'm now a graduate, and it feels good. I've started looking for jobs, and I've found a couple which look pretty darned promising. Here's to a good summer.