Posted by Neil Crosby on July 26, 2005 11:19 PM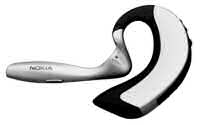 Over the last month or so, whilst I've been away from my girlfriend, I've been making lots of long calls on my mobile phone to her. I just can't get enough of it. With her living so far away from me at the moment it's just fantastic to hear her voice when I calll her. Unfortunately, holding my mobile up to my ear ends up hurting my shoulder far more than using a conventional phone does. So, for quite a while now, I've been hankering after a bluetooth headset - my reasoning being that if I don't have to hold a phone up to my ear, I won't be hurting my shoulder.
So, as a well done to me for managing to get a first for my degree, my parents decided that they would buy me a Nokia HS-4W Wireless Bluetooth Headset. Originally we were going to go for a HD-W3, but frankly the HS-4W looked much nicer. The HS-4W is a joy to use, and fits snugly over my ear (it will quite happily fit over either, but I prefer using my left). I've got it set up to automatically connect to my phone, the Nokia 6600, whenever it's turned on and it works like a breeze. The answer button is placed for easy access, and does the job it's meant to quite happily. My only complaint with the headset itself is that the volume and power buttons aren't too easy to get to whilst I'm wearing it, and that I've had a few problems with audio fallout (but only whilst using it outside in the rain).
So overall, I'm really glad that I got this. Wireless technology is great!