Posted by Neil Crosby on March 1, 2005 04:23 PM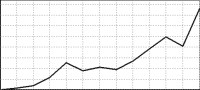 Well, just wow. I really wasn't expecting February to be such a busy month for the site, traffic-wise. Last month we had double the traffic that we had in january, and by the end of this month we should have had as much traffic as we had in the entirety of 2004. So something must be going right here!
The article I'm intending to write next is going to be a follow-up of either "mod_rewrite, a beginner's guide" or "Using the iTunes COM Interface with Java and Swing". I'm currently leaning towards writing the iTunes follow-up article first, since it fits in nicely with my dissertation (which I'm in the process of writing) and there isn't much written on the subject as yet. Of course, if people would prefer a more in depth look at mod_rewrite first instead then I'll be more than happy to accommodate. If you've got a preference, please leave a comment.
TrackBacks
TrackBack URL for this entry: http://www.workingwith.me.uk/cgi-bin/type/mt-tb.cgi/646