Posted by Neil Crosby on March 11, 2005 08:55 AM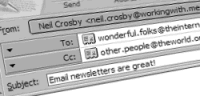 Well, hello there! It seems like yesterday evening a lot more people than normal have been visiting the "Cross Browser Drop Shadows" article, which is really great. The thing is, almost all of them have no referrer assigned, which means (to my mind at least), that they're probably coming to the site from a piece of email software. There have also been quite a few people coming from various webmail sites, which considering that before yesterday the only place that visitors to the "Cross Browser Drop Shadows" article had been coming from was Google gives me a pretty strong indication that someone has linked to me from an email newsletter.
So, own up - who's been sending people here? If you're one of the people who's arrived at workingwith.me.uk via this email, is there any chance you could forward me a copy of it? I'm just really quite interested to see who is behind the sudden (lovely) influx of visitors.
It's the Sitepoint Newsletter that's been sending all the traffic. Huge thanks to them for finding my little article and feeling that it was good enough to introduce to that many people. It warms the cockles of my heart, so it does.
TrackBacks
TrackBack URL for this entry: http://www.workingwith.me.uk/cgi-bin/type/mt-tb.cgi/642